Hyouge Mono, who would've known? Koichi Mashimo is regarded about as highly for his directing prowess as Bee Train are for their animation. Which is to say, not very highly at all, so I can't really blame you for glazing over a late-to-the-party series like this, but as any right thinking English gentlemen will tell you, tea is what our great British Empire was built upon and, well, most of what I knew about Hyouge Mono before it aired was that it somehow involved tea. Colour me curious, then, and lo and behold, word begins to trickle down that Hyouge Mono might actually be worth watching after all.
Firstly what's important to note is that this is a series produced and broadcast by Japan's BBC-equivalent NHK, bringing with it a higher profile than Bee Train's typical fare and, therefore, probably more money for animation. It shows, as this is easily the best animated series I've seen from them.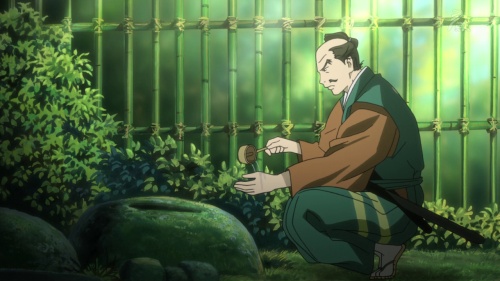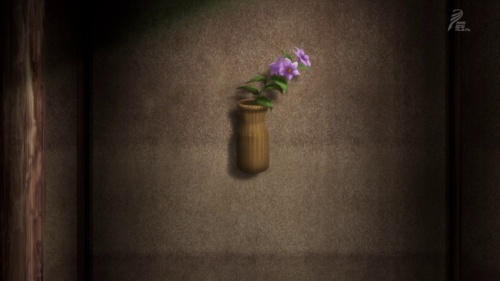 Hyouge Mono is a quirky medieval piece about the famous Nobunaga Oda, as seen from the perspective of a warring general with a passion for art. The word I'm looking for here is aesthete, which is used multiple times to describe the man, named Furuta Sasuke. He admires the sizes and shapes of all kinds of objects, from giant warships and towering castles, to, yes, exquisitely designed teapots. In this story, the best-looking teapots have their own names and are highly sought-after, so much so that even a particularly average teapot can be (and is) taken as a symbol to discern a host's enigmatic courtly intentions. In fact, Sasuke is so taken by one beautifully crafted teapot as to compare to his wife's shapely breasts (at the same time as making love to her, no less!)
I've read people calling Hyouge Mono boring, but for me it's not like that at all. Don't get me wrong, there's a distinct lack of magical girls and mecha, but if one approaches this series with a patience for long exchanges of dialogue between middle-aged men and arguments over decorated wooden chests, the reward is an interesting and amusing clash of war, art and culture. Think House of Five Leaves, minus the homoeroticism, but more muscle.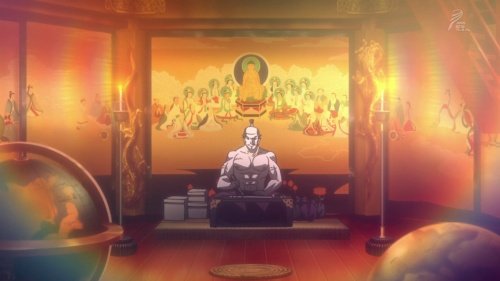 Nobunaga is a ridiculously cool guy. On the one hand, he's pure flaming ambition, commanding his vast army to unite all of Japan under one banner, yet he's an admirer of art and honesty, too. He cuts down a smart-mouthed merchant for not having the courage to stand behind a sarcastic remark, but values his aesthetes for their refined tastes in all things artistic. He decides to have his warship painted black because one such master of opinion suggests a darker shade would be more befitting of such a fearsome bulk. The weight of this scene is implied by Nobunaga's ruthlessness. He isn't the kind of guy many would disagree with, especially not in public. Speaking out against him, particularly given the dead merchant minutes earlier, was a particularly brave thing to do.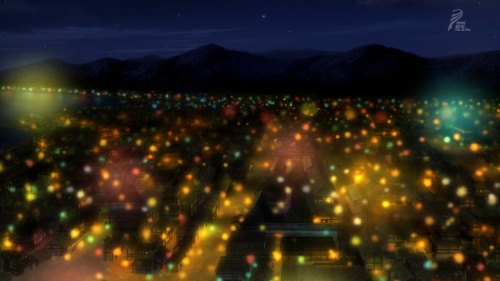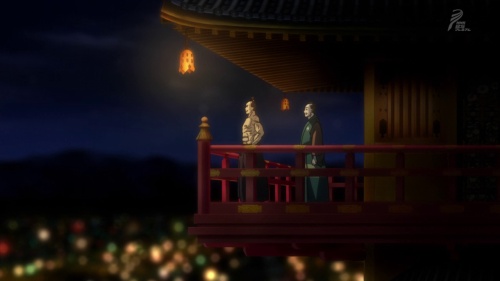 Basically, Hyouge Mono is all about art, courage and conviction, set against a Japan being turned upside down by civil war. Nobunaga looks out from his towering balcony to see hundreds of coloured lamps lining the streets below. He ordered his people to do it, just because he thought it'd look nice. It's such an epic sight, and Hyouge Mono is this season's wild card. I suspect an epic (in the traditional sense) is in the offing!