I love when the mainstream media tackles anime. Tomorrow's New York Times' features a story about the business opportunities in streaming anime. In its discussion of what shows work, the articles drops this great quote: "The small but avid audience is made up of mostly male viewers aged 18 to 34. Distributors said comedies, sports shows and anything aimed at women tend to not work."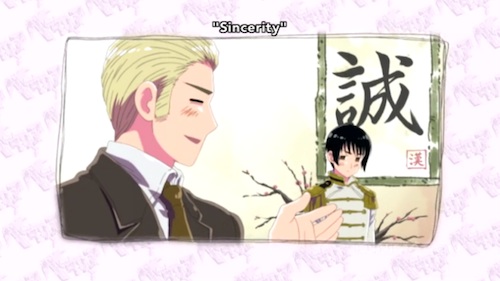 Ouch. Sorry women, the anime companies don't know what to do with you.  They must know you watch anime, but apparently not shows aimed at you.  Or at least you don't on Hulu or Netflix.  I suppose no one has heard of Hetalia?
While companies struggle to figure out women, they seem to be connecting with teenage boys. The article cites Naruto: Shippuden as one of the most popular shows on Hulu. Even better, the streaming sites get the content cheap. Netflix pays just a small licensing fee, while Hulu shares some ad revenue. That compares favorably to the large fees both pay for domestically produced content, like Mad Men and Gossip Girl.
It's heartening to see that streaming anime can be profitable. Even Cartoon Network thinks anime has its place, with a senior VP at Adult Swims explaining, ". . .we'd rather be more interesting and edgy from a programming standpoint, and that means anime." I hope this means more people will get exposed to anime on sites other than crunchyroll and NicoNico. Or, better yet, that Cartoon Network will add more shows to their broadcast lineup. In the meantime, I guess we'll try to figure out what these mysterious women want.