There's a few different tactics one can employ when approaching a new season of anime. You can either jump straight in during the first week or wait a while longer for the dust to settle; neither choice is perfect, but for this season at least, I decided to wait for 3 episodes to be released before getting my hands dirty with any new series.
If 3 episodes seems an arbitrary amount, that's because it is. My only logic here is that since I want a decently informed opinion on anime, 3 episodes are better than 1. Any given episode of a series can be misleading, but 3 are more likely to betray a consistent sense of story-telling and quality. Alas, they also take more time to watch, but for the most part, I enjoy watching anime, so that's not such a drag!
(I say for the most part because Guilty Crown proved so atrocious that I had to quit barely 5 minutes into the 3rd episode amidst a growing sense of vertigo. So, this is what passes for noitaminA now?)

I've taken-in roughly 8 of this season's new offerings so far, with only Last Exile: Fam, the Silver Wing left to sample, and right now my favourite is Ben-To, with both Chihayafuru and Fate/Zero also impressing.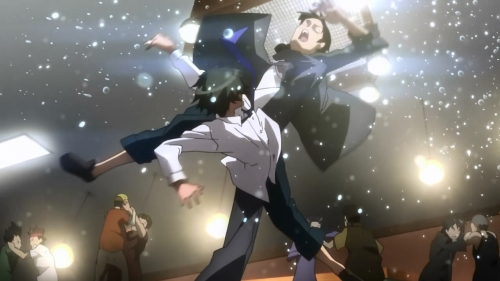 Ben-To's hot-blooded and fun and reminiscent of Gurren Lagann, but it's probably best compared to Astro Fighter Sunred, a similarly absurdest sitcom rooted in the suburban blandness of modern-day Japan.
In Ben-To, people literally fight each other in the shopping aisles for first dibs on the evening's discounted bento-boxes. The more we see, the deeper we dig into their strange world's sense of strength, honour and comradery, a microcosm of modern life clashing with man's primordial urge to hunt and gather. People team-up to fight "The Boar," an aggressive, overweight woman who uses her shopping cart like a battering-ram to force her way through the isles, the Wolves are strong loners, concerned as much with pride as with food, whilst The Dogs hunt in packs, using their strength in numbers to block off their opposition.
The main character isn't your typical Guilty Crown-esque loser, but a resilient, strong-willed boy capable of both taking and handing out a beating. At the end of the third episode, one character proclaims that "He doesn't have the eyes of you dogs. Those are the eyes of a wolf." On its own, it's a line that wouldn't seem out-of-place in rather more hard-boiled stories like Berserk, Vinland Saga and Fist of the North Star, but that it appears in Ben-To is great. It isn't all bad-ass, though. I have to mention the fan-service and stereotypical "moe-ness" of it, too.


Episode 4 introduces a girl we first meet in the main character's bed. Later on, she sexually harasses another girl… Sound familiar? Sometimes it feels like 2 different series forced together, but it's worth persevering with for the crazy fist-fighting; the sheer disparity between its 2 halves is perhaps why Ben-To's so much fun, anyway.