Lately, I've been watching a lot of "fluffy" anime; series with heart-rending love stories and elegant ballet dancing. There's nothing wrong with that, but from time to time, I like to taste the other extreme too; I mean a bit of the old "ultra violence". It's natural, then, that Shigurui fits the bill; the kind of anime many of us like to pretend doesn't exist. So, before going any further, please note this post is heavy on images of an "adult nature"; though I understand many of you might be unsettled by such blunt depictions of sex and violence, the truth of Shigurui lies not in words alone, but its unrelenting presentation of old Japan's institutional depravity. Basically, you've been warned.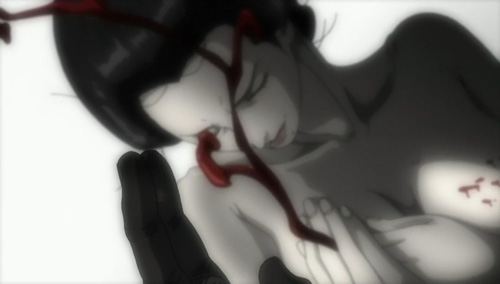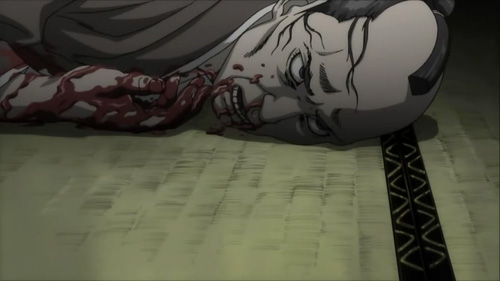 We begin in Japan around about 1629. Two arch enemies, both samurai, are facing off in a very real death match, but this isn't exactly a traditional battle. While Fujiki only has one arm, his opponent Irako is completely blind and, as if that wasn't bad enough, is missing half of his left foot too. Regardless, their hatred for one another is legendary and obviously, they intend to kill each other there and then. Cue the backwards time-skip; the rest of Shigurui will follow these bitter and twisted adversaries from the very first moment they meet, both young and unscathed, to this final confrontation.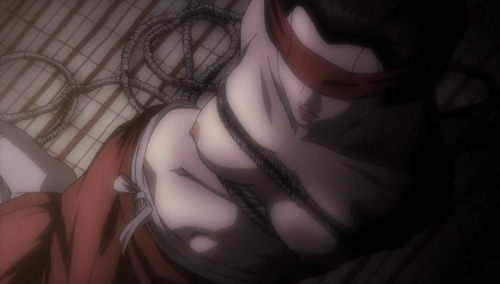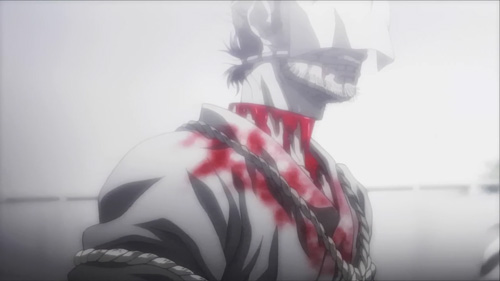 With both men being talented samurai, they first cross paths in the Kogan Ryuu kenjutsu doji, competing to surpass its current master Iwamoto Kogan and marry his beautiful daughter, Mie. It may sound straight forward, but Kogan is a harsh and cruel old man who flits between periods of disgusting senile incompetence and perverted blood lust. His followers, with their loyalty forced by insane Japanese traditions ingrained since childhood, rarely argue and simply maintain the system of abuse, torture and violence; murder and dismemberment are simply a part of the job.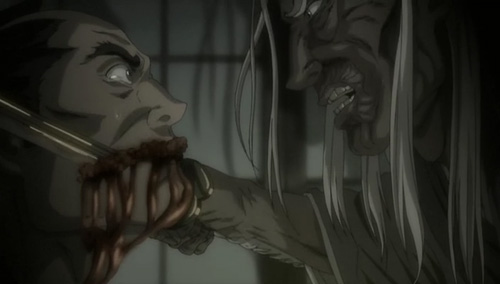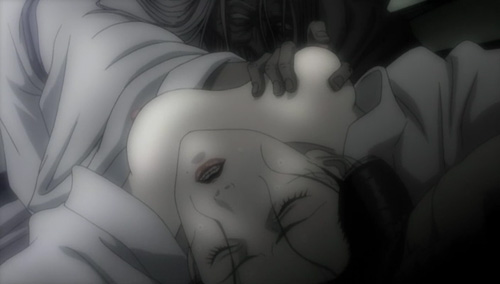 It should go without saying, but the women in Shigurui aren't treated with much respect, rather, they are essentially slaves. They have no power; they are constantly raped, tortured, mistreated and used as tools. In one particularly painful moment, Kogan suspects his shunned wife, Iku, of adultery (in fact, she is having an affair with Irako), and so he literally rips off her right nipple and feeds it to his second in command. Indeed, the only true "heroes" or at least, sympathetic characters, in Shigurui are the women who, despite being constantly degraded, somehow discover an inner strength and hope.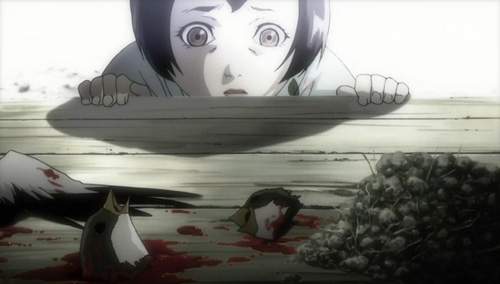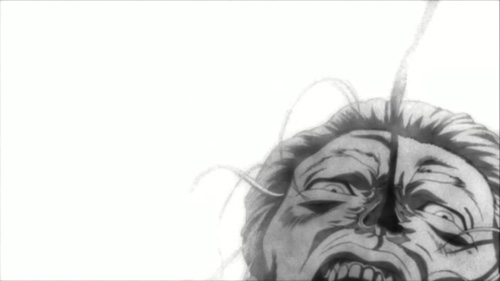 The series has an almost pornographic emphasis on the human body and how it can overcome such great damage. This is a theme that runs through director Hirotsugu Hamazaki's other work, Texhnolyze, a similarly bleak and violent exploration of flesh that refuses to pull punches when it comes to depicting man's penchant for inflicting cruelty. Indeed, each wound is a considered blow, executed with the precision of a surgical knife; entire noses and ears are lopped off without even a second thought while another samurai survives despite having his cheek sliced from ear to ear. It may sound a bit too much for some, but there is a grotesque honesty to the violence; it's realistic, painful and absolutely involving.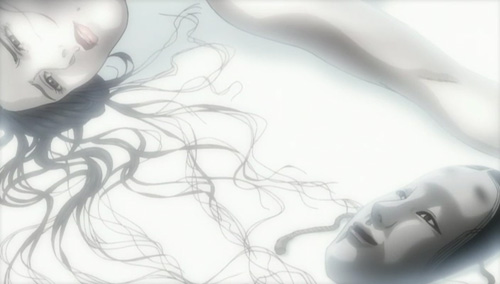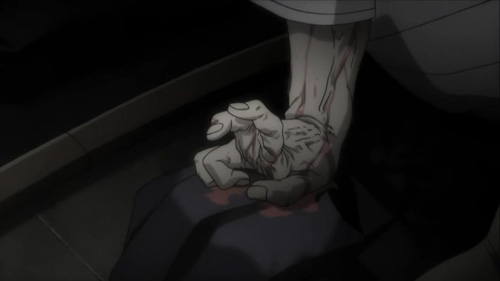 Now, having seen six episodes out of the total of 13 produced, I'm tempted to claim Shigurui as one of the best series to air in 2007. As you can probably tell by the images I've embedded through out this article, the art and animation from Madhouse Studios is evocative and without flaw; all at once, this is a beautiful and disgusting series. The pace of storytelling is slow and deliberate, while the soundtrack simply hums and swirls in the background, allowing the viewer time to ponder character motivation and emotion.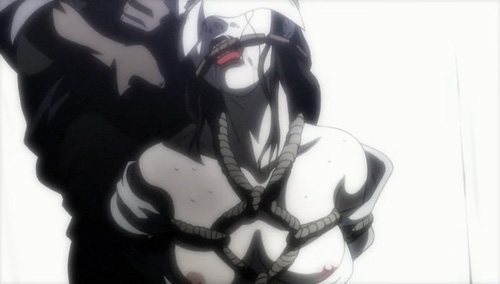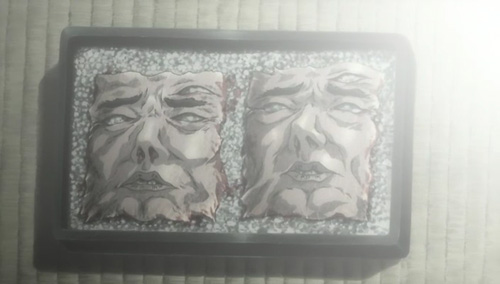 Remarkably, there are no conventional leads in Shigurui, as both the central male characters Irako and Fujiki gladly follow the blood thirty orders of their psychotic master. Frankly, they are only interested in bettering themselves and each other, so indeed, it's the women behind them who are the real heroes; Iku is isolated, caught in a loveless marriage but brave enough to risk death for another lover, while Mie is trapped under the ever watchful gaze of her perverted father and forced to live her life as a victim of rigid tradition. The show itself takes an objective view on all of this; it has no real interest in manipulating empathy and forces the viewer to interpret their own emotional reactions. Almost every episode is liberally sprinkled with sex and violence, yet Shigurui's constantly sober approach and disquieting emphasis on flesh means this an odd mixture of the attractive and repulsive that's simply impossible to ignore.