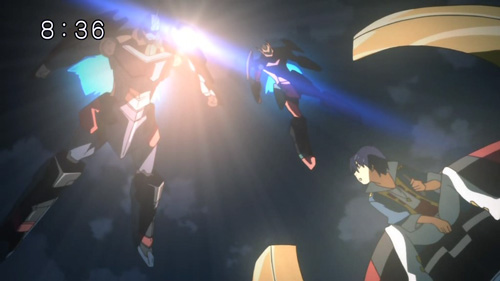 Not sure how I missed this, but the full soundtrack for Tengen Toppa Gurren Lagann was released recently; that's 51 tracks of epic, exciting, heavenly music, and even better, it contains the one song I've be longing to hear since late-July. I'm talking about track 13 on Disc no.2; the translated title is "The Days Become a Traveller of a Hundred Generations". For such a haunting, ethereal tone, it's heard only once in the anime itself, during the first half of episode 18, but this single sequence, just a mere few minutes in length (may as well be an eternity), and the awe-struck feelings it conjured inside me, have long since remained close to my heart.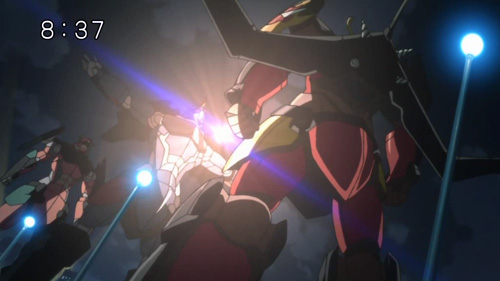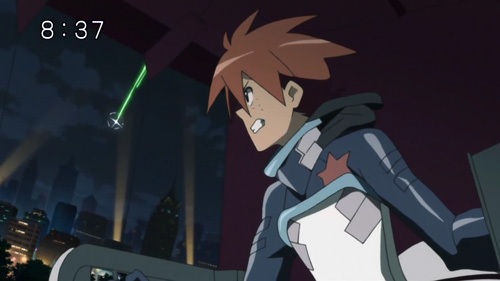 We begin around the 5:40 mark. Simon's in the Gurren-Lagann, frantically searching for Nia. Before he can launch into the neon-lit sky-line of Kamina City, he's curtailed by (the now-teenaged) Darry and Gimmy in their colourful Gulaparl mecha. They try to persuade Simon from needlessly worrying the citizens by flying around in the iconic Gurren-Lagann, its heroic image having come to represent the desperation of humanity's recent past. In response, he just separates from the larger Gurren and brashly explodes into the clouds above, continuing his search for Nia regardless of their complaints.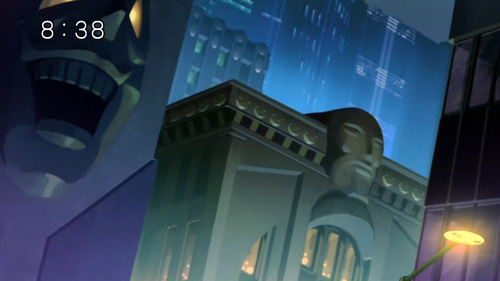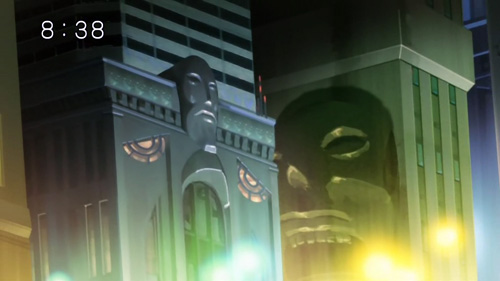 The atmospheric music really kicks in as Simon tours the sprawling Kamina City, its concrete streets and sky-scraping buildings bathed in the warm, comforting glow of electricity. The architecture is strange and fascinating, having been influenced by the Gunmen style of design, strange faces; giant and carved from stone, protrude from the buildings, expressions half concealed by shadow. The Spiral King's huge fortress, the smiling Dekabutsu, overlooks the rapidly developing city below, as worried search-lights scythe through the starry night sky.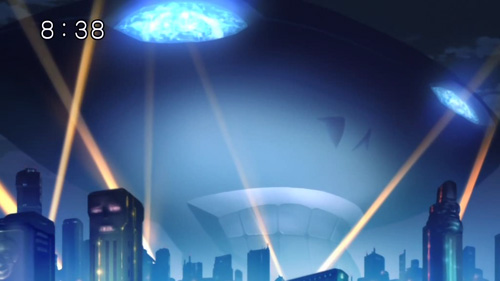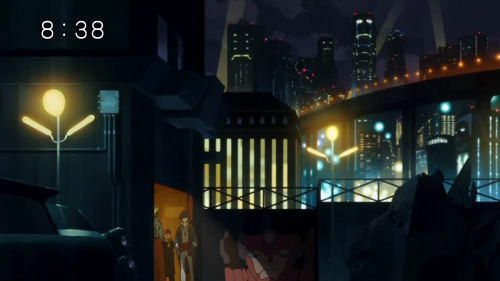 The thing about this sequence and why it sticks in my memory isn't anything to do with the characters or drama. It's the clash of TTGL's surreal reality with our conflicted, modern world. The way everything looks so familiar and yet, it's dream-like too. The oppressive stature of the city, the huge stoney faces passing judgement on and manipulating the residents below. We immediately sense dystopia; a city that's grown cold, twisted and without feeling. Suddenly, this is a world that's alive with texture and detail. The song speaks of those feelings, a kind of knowing, regretful, beautiful sadness.