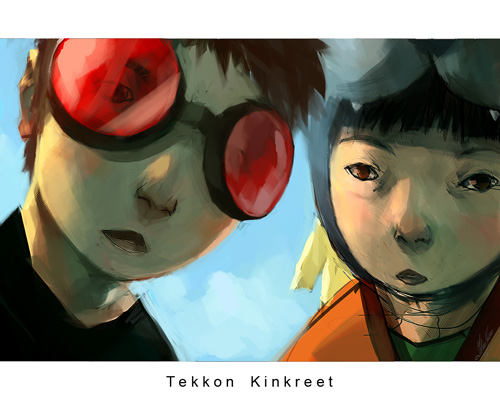 Instead of spending hours writing about just one series, this week I've dragged myself in the opposite direction and reflected on four of my current favourites. There's no real reason for the Tekkon Kinkreet image above, except to say that it's one of the finest examples of fan-art I've clapped eyes on; tobiee is an amazing artist, but I digress, on with the show.
Gundam 00 – I've realised something shocking; I like Gundam 00. Similar to my time with Toward the Terra, it took a while to get under my skin, but by now, I'm watching new episodes as soon as they've aired. Boasting a plot dense with mystery and a number of conflicting ideas about war, philosophy and religion, I'm anxious to see whether or not the intervention of Celestial Being will result in the evolution, or destruction, of the modern world. At times, it's breath-taking, especially the spine-tingling conclusion to episode 15, but the character designs (and therefore, the character's themselves) are too contrived.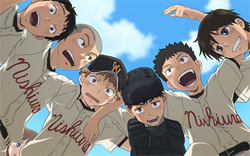 Ookiku Furikabutte – I know nothing about baseball, but after a few pointers from my trusted colleagues, I started watching Ookiku Furikabutte last week, and already, I'm hooked. Like Fighting Spirit, regardless of game-specific quirks, it offers some quite heart-felt, relatable depictions of emotion, friendship and psychology. We're granted profound insight into the thoughts of the players stepping out onto the hallowed turf, on the very brink of being consumed by worry and self-doubt. For example, protagonist pitcher Ren Mihashi begins as a Shinji Ikari-level introvert; annoyingly timid, but his transformation into a confident, happy butterfly will be an inspirational moment to behold.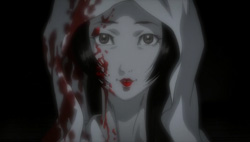 Shigurui – An early start to this past weekend saw me devour the last two installments of Shigurui and while I was prepared for its abrupt finish, I'm frustrated that I'll never know the outcome of Irako's final battle. Still, Kogan Iwamoto's death was mightily rewarding. In a story where every character thinks nothing of inflicting cruelty and murder, the old-man was the most vile of them all; poor Irako (blind), Iku (one-nipple) and Mie (insane) deserved that bloody revenge. Indeed, alongside Rurouni Kenshin: Tsuiokuhen, this is one of the finest samurai anime I've seen. It's violent, corrupt and without compromise.
Gambling Apocalypse Kaiji – What is there that's left to say about Gambling Apocalypse Kaiji? Fact is, it's awesome; everyone agrees; the end. In the most recent episode, our hero was shaken in despair and within millimeters of a mashed ear-drum, all courtesy of crusty old yakuza sporting healthy delusions of grandeur. It's almost impossible for Kaiji to escape unscathed, and yet, even as I write this, I'm savoring his inevitable victory, the big fat red letters about to be scrawled over Tonegawa's wrinkly forehead that read 'o-w-n-e-d'. I mean, our hero can't lose; if I have faith in anyone, it's faith in Kaiji.
Music spotlight – Discovered at 'Music For Robots' was this fun remix of the Mega Man 2 soundtrack by retro splicer Johan Agebjörn (the fantastic video was authored by Lichterloh). I mean, platform games, don't they look great? It's probably the nostalgia speaking, but there's something about these 8-bit remixes I just absolutely, totally, completely adore, even listening to the first few seconds will recall a pang of feeling or emotion from an era long since past. Enjoy the echoes of memory!