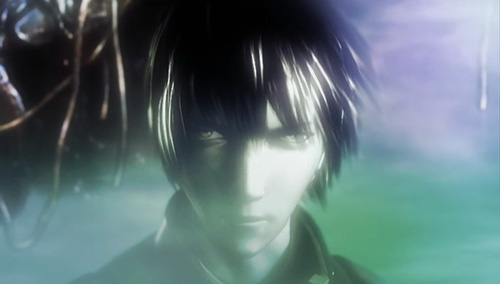 If there's one genre I'm always likely to love, it's dark, heavy science fiction. As attested by the bitterly disappointing Ergo Proxy and Oshii's philosophically-loaded Innocence, it's a subset of anime that's prone to artistic pretension of the highest order, but even still, when it works, as in the case of the viscerally despondent Texhnolyze, it's impossible to ignore. The "Blame!" manga series is another example of such a beautifully drawn, deep science fiction story that's just aching to be animated. Thankfully, the Japanese are beavering away on it right now and if these newly released clips (from which these snapshots have been taken) are anything to go by, we might just have another winner on our hands.
Though I'm not the biggest fan of CG anime, it's perfectly suited to such a vastly-futuristic, almost-alien world like that which is at the heart of "Blame!". "The City" is a megastructure (Dyson sphere) that's long since grown beyond all human control; gigantic mechanical builders have been expanding its borders for hundreds of years, and now, even the moon is incorporated into the forever stretching landscape. By way of finding the last few humans born with Net Terminal Genes, Cyborg Killy's mission is nothing less than to stop this constant building, but standing in his way are countless tribes of transhuman, twisted Silicon Creatures.
Though it sounds action-packed, so much of what's so good about "Blame!" is simply in tagging along with Killy as he climbs through the empty, decaying levels of long-since deserted dystopia. It's a skyless, desolate story constantly emphasizing the claustrophobic, limitless walls of metallic architecture and dotted with moments of organic, hopeless violence.
If the trailer is anything to go by, I can't wait to see this animated.