Living in ol' Blightly, we aren't taught the delights of baseball. For us, it's either cricket or rounders, and the latter's enjoyed mostly by girls anyway. So I sat down to watch Ookiku Furikabutte knowing basically zip all about the game, except that the Americans (especially Bobby De Niro) are mad about it. Why bother then? I love sports anime; the genre might be cliche, but for me, you can't beat seeing an underdog battling against all the odds, trying their hardest to compete and eventually winning the respect of others through sheer guts and determination. For me, then, sports anime is a reaffirming and inspirational journey. A constant, heart-warming reminder that success and talent is always a curve-ball within our range; we just need practice and strength enough to know when its time to swing away.
Our journey, then, kicks-off when we meet high school new fish Ren Mihashi; though he's unconfident and shy, Ren's blood flows with an unlimited passion for baseball, and baseball alone. All he's ever wanted to do is stand on that mound in the middle of the pitch and throw strike after strike to success. So, belying his timid nature, Ren dreams of being his team's ace, their number one most important player, but he's often struggling with his own (lack of) self belief as much as his opposition's swing.
That's really the basic outline of Ookiku Furikabutte, Ren starts the series by transferring schools and joining a newly formed team just in time for the summer competitions; we follow them, all strangers at first, from their early morning training sessions right through to the marathon matches themselves. Ren might be the main character, but several other strong personalities on his team shine through too; catcher Abe is a down-to-earth and tactically astute friend, Tajima is your typical hot-blooded shonen hero with immense natural talent and finally, their coach, Maria, is a no-nonsense, big breasted 23 year old woman with an absolutely wicked swing.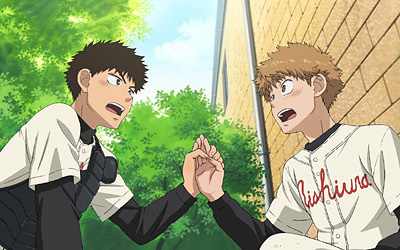 Seeing it all come together in Ookiku Furikabutte is a joy to behold. With everyone fighting for a common goal, they bond together and battle as one. They believe in each other. If it ever looks like someone's feeling down and out, a team-mate is there, almost instantly, to shoulder that pain. Writing this now, I know it must be sounding cliche, but when you're seeing it on screen, and you're so invested in these characters, it's heart-warming to sense this comradery between friends. That, for example, Ren can smile when he's pitching, considering he's basically a broken-heart in the beginning is really quite moving. Just like its great when Ren's female cousin calls him "Ren-Ren" in front of his team-mates and they all burst out laughing at him for having such a "cute" rapport with her.
If Ookiku Furikabutte ever does come close to losing my attention, it's probably because there's been a sudden burst of complex baseball tactics that went way over my head, but this sense of confusion is often tempered by some amusing scenes involving the shrieking mothers of the players, all of whom are huddled together at the back of the stands, positively beaming with pride watching their children on the field.
At this point, I should note that despite this being a 25 episode TV series, it contains only two actual baseball matches, both of which are multi-episode, tense epics of inner-strife, clever tactics and brinksmanship. Because things progress at such a slow pace, I'm left wishing for an as-yet-unannounced second season (I could quite happily watch another 100 episodes just like this) or will have to resort to reading the original manga instead, but regardless, I've loved watching this.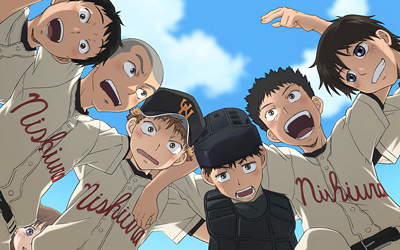 It might be formulaic, but this is a story bubbling with positive energy and emotive characters. If you feel sad, in need of inspiration or just lacking a bit of self-confidence, don't be afraid to have a swing at Ookiku Furikabutte. It's ostensibly centred on Baseball, yes, but for all its sports-talk, it's a true champion of friendship, team-work and fun.