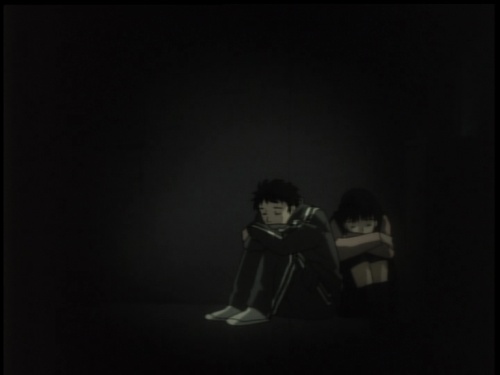 When I think about Boogiepop Phantom, I'm also reminded of other recent Madhouse anime, like Shigurui and Casshern Sins. Each has a strange aesthetic; seductive yet tinged by an under-lying sense of sadness and desolation.
It would be easy to categorise them as dark and depressing, but they are more complex than that. It's not horror merely for the sake of mindless chills; it's horror to serve a purpose, to weave a spell. Boogiepop Phantom is disorientating, Shigurui is grotesque and Casshern Sins is desolate, but each conjures an atmosphere potent enough to provoke difficult questions.

Their respective characters are often serious and handsome, but lacking in something desperately important; a purpose or a place; sometimes the purpose is twisted and weird, other times the place is empty and lost, but whatever the scenario, it's always lurking beneath the beautiful veneer; a clash of superficial beauty with something darker and altogether more human, and as a result, a real sense of depth is achieved.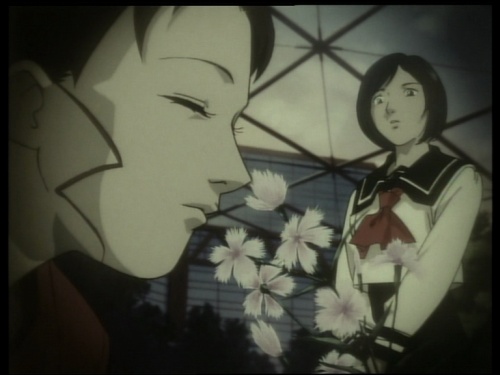 "My pregnancy has taught me that, unlike men, woman have two faces. Her face as a woman and her face as a mother. Like with plants, there are flowers and there are leaves. A leaf tries to absorb as much sun and nutrition as it can, while a flower simply tries to look as beautiful as it can. The flower is a women's face, while the leaf is a mother's."
The above is from episode 6 of Boogiepop Phantom. It's such a lovely little analogy I had to transcribe it straight after watching. That is so typical of the feeling I get from these so-called "horror" anime, where the eloquence of the prose itself is intertwined with a beautiful piece of symbolism.
The scene in-question has a pregnant woman trying to express how she copes with living as a single mother. She's explaining all this to a girl who hates her own mother for falling in love with another man, despite her father having passed away years previous. I think it's just a delightfully abstract way of expressing how a mother will always be there for her children.