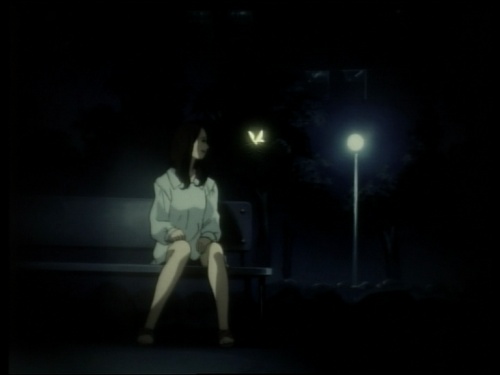 The coolest thing about Boogiepop Phantom is that it's just really fucked up. Too often in anime are teenagers romanticised. Everything's so sweet, so melodramatic; no permanent damage. It's just easier to watch something like Toradora, where everyone's so cheerful, ready to communicate and fix their problems.
Nothing festers in your typical anime high-school; feelings, conflicts are all out in the open, ready to be tended. It's false bullshit, but we watch it because it's happy and safe, because there's always an answer, and the characters will always turn out okay, smiling in the end. We know it's coming and that's fine, but it lacks an edge; seems to be more like a dream than reality.
And you wouldn't willingly escape into a nightmare, right?

Boogiepop Phantom is from the other side, twisted enough to admit that not everyone is going to be alright, teenagers especially. Love can turn bad, things can go wrong, people can be depressed and weird and without hope. Everything can go off the rails. That's just life.
Anime doesn't always have to be easy to watch, and this certainly isn't. The names and faces are hard to follow, camera angles disorientating and lack focus, the soundtrack inconsistent and artificial. Boogiepop's mysteries are disturbing.
A huge pillar of light strikes down in the middle of an unnamed city, the light, reaching as high as the eye can see, is illuminated against the night sky. There's no explanation, it just happens and then people get on with their lives; going to work, catching the train to school; gray skies, packed carriages and the pulse of electricity. Modern life.
This is an odd series, a dark, ambiguous diamond in a sea of good vibes and happy endings. I'm really enjoying it.