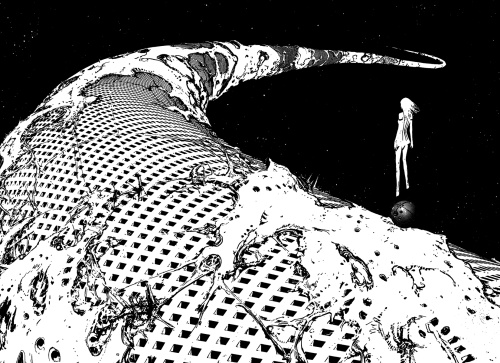 Happy new year, everyone! Time sure flies and it's now looking likely that this blog will live to see it's fourth anniversary on the 4th of March, which is just… surreal!
This time of year also provides me with the rare opportunity to immerse in some new worlds of fiction. Last year I fell under the spell of Legend of the Galactic Heroes, but this time it was to be Tsutomu Nihei and his six volume Biomega that caught my eye.
Nihei is probably my favourite mangaka. It's not like I've read a lot of manga, but this guy has held my admiration for a long time, ever since I stumbled over his first series, Blame!, where the dialogue is sparse, action is rapid and landscapes are wide, sprawling stretches of textured emptiness.

The same can be said of Biomega too. Things become very interesting half way through, when the apocalyptic Earth is destroyed and then remade into an unfathomable cylindrical mass of organic splatter and twisted pipes. Our new home stretches beyond human comprehension and far into the stars (its actual length is estimated at 4,800,000,000 km). Its alien, alternating environments are separated by 12 massive sections, each with their own tribes and customs.
It's meant as much in praise as in criticism of Nihei that he isn't bothered by conforming to conventional storytelling tropes, because there is no denying that his stories are confusing and ambiguous, and although the introduction of a talking Russian Brown Bear (no, seriously!) does occasionally lift the murky darkness of Biomega, Nihei's greatest attraction still lays in building strange new worlds for his characters to silently wander.
Entire chapters rush past with barely a word spoken, yet there is just so much to look at, one can only marvel at the harsh beauty and dystopian imagination of this art. "A picture paints a thousand words" is an oft repeated cliché, but for Nihei I think it's relevant. There is an unfathomable depth and scale to everything he draws. I lose myself in his manga.