What is the Cowboy Bebop ending trying to say? It feels like such a waste! Spike doesn't have to face Vicious, he could just stay with Faye and Jet, leave Mars and fly away, but he doesn't.
No matter how many times it's replayed, there will always be that choice hanging over Spike in the end, but then, isn't that why Cowboy Bebop's still so fascinating? Consider Faye Valentine.
Having lost much of her memory to amnesia, she spends basically the whole series piecing together elements of her childhood, her old friends, her family; her old life, basically. She's able to ignore reality right up until the Cowboy Bebop ending because she's clinging to the dream that someone, somewhere, is waiting for her, with a warm home and arms wide open. Eventually, her dream is shattered, but as sad as that is, her life is, from that point onwards, all about moving forwards and facing reality.
Freed from the same invisible threads that so bind Spike, her realisation comes too late in the day to save him from his inevitable fate, but thinking about her life from that point onwards, one can at least rest assured that her eyes are finally open.
She knows how futile and stupid Spike's reasons are for leaving, but also knows that she's powerless to stop him from going (repeatedly firing her gun into the air is a symbol of that frustration and impotence.) Absolutely no-one can stop Spike at this point from being drawn back; just as she found herself running down that old road in search of the truth, the allure of the past by now is just too strong for him to resist.
How a person deals with that allure or attachment to things long since passed is telling of a person's potential to thrive in the future. In other words, can you put the past behind you and move on? It's what director Shinichirō Watanabe is trying to explain during Cowboy Bebop's ending by signing off with the tag-line that reads "You're gonna carry that weight."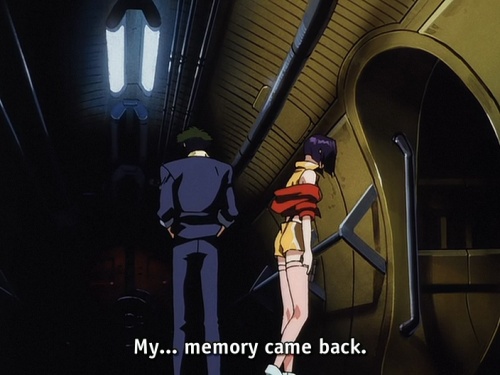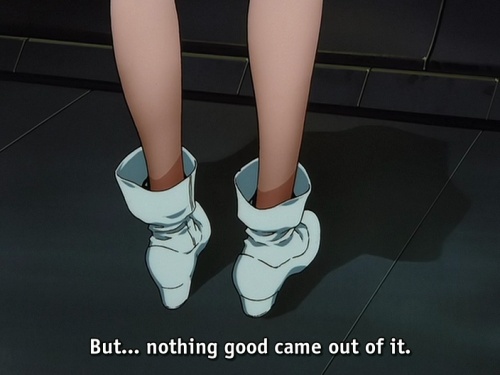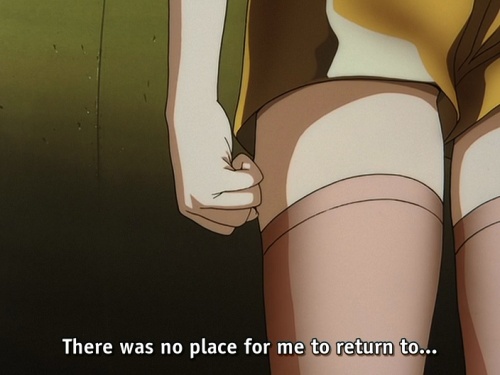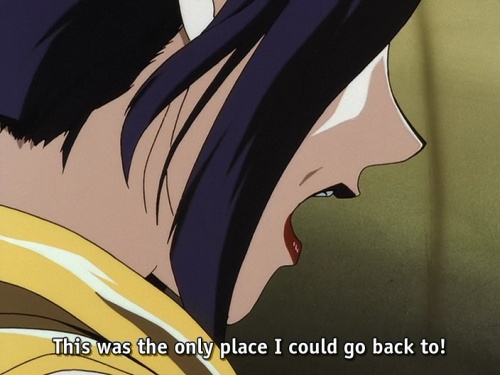 No-one lives a perfectly happy life, yet every day we're faced by choosing either to live by striving for a better tomorrow, or to retreat by lamenting yesterday. At the end of Cowboy Bebop, Spike's eyes are trained on yesterday, but Faye's on tomorrow. It makes for an ostensibly cool ending, yet the more one thinks about it, the more it feels like such a pointless, tragic waste. Life is for living, after all! Spike should've stayed with his friends, on the Bebop!