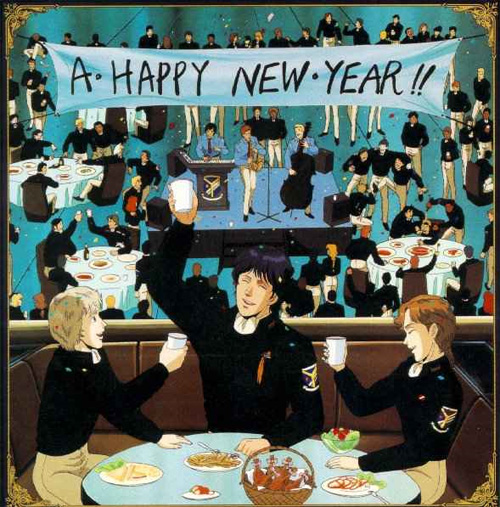 There's no specific point to this post, but for a few days now, I've wanted to write something for my blog, and thus, here we are, dear reader. It's just that time of the year, I guess; a blank page and hours to spare. Themes or no, after nearly three years of doing this, I can't help but feel a tug at my heart to say at least something before this year's end. So, here we go.
Perhaps the logical thing for me to do would be to write a year-in-review list or some other vague spin on that lovable tradition of anime blogging? But I don't feel like doing that this time around, I'm more concentrated on what I'm watching right now, like Legend of the Galactic Heroes. It's perfectly apt that the last anime I'll finish in 2008 will be the one I've been locked in battle with since March. I'll probably be relieved once it's finally over, but probably a tad nostalgic too, because it's always with such a bitter-sweet feeling that I let go of a story after such a long journey.
Another of those bitter-sweet journeys was Toward the Terra, which, I'm excited to note, I'll (hopefully) be revisiting over Christmas via the original three-volume manga series, To Terra. I'm finding that my fascination with this story is an odd thing, really. It's not easy for me to pin down either, but considering my feelings for a while, it may have something to do with the flow of time within the story.
Like in Gurren Lagann, where the characters seem to visibly age, grow into better people or terrible villains, but always changing. The same can be said of the thousands of years that pass between the stars in Gunbuster, or in Orson Scott Card's Ender's Game. Such a clear and inevitable sense of flowing time, the characters' lives, their dreams and ambitions, as brilliant as they may be, are so immensely small and ephemeral when set against the sheer magnitude of space and time. In such obscurity, it would be easy to give up, but these characters never do, they keep on going.
For me, that's such a comforting sentiment, especially at the close of another year, where the subject of time progressing is literally the reason to party. So, if you celebrate it, I hope you have a great Christmas and, of course, a happy new year too. Ah, go on then, what did you get for Christmas? I hope you gave some awesome gifts, too?