Apparently, Shingeki no Kyojin can be translated to 'Advancing Giants'. It's a new-ish, still on-going manga (began serialisation in 2009) that I started reading at the weekend. In it, humanity has been brought to the brink of extinction by an unstoppable wave of man-eating giants. Where did they come from? Nobody knows! And why do they eat only humans? Again, nobody knows! The giants don't feed on us for sustinance, they do it because they can!
Mankind somehow survives by sealing itself within a city, surrounded by 50 metre-high walls to keep everything else out. 100 years later, it's an era of relative peace, but suddenly, this guy appears… More than double the size of any giant ever seen before, he (literally) kicks a hole in the city's previously impregnable defences and unleashes the horrors outside waiting to get in.
And so, the real story of (the award-winning) Shingeki no Kyojin begins.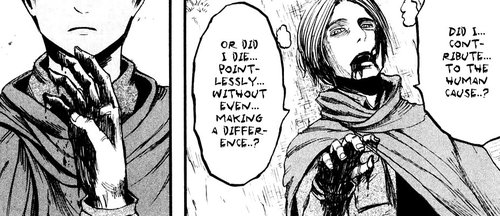 How best to describe this? First, imagine the grittier aspects of Eden: It's an Endless World!. Shingeki no Kyojin is a shounen manga, so it's not as 'adult' as Eden is, nor is it as technologically advanced, but that sense of a future gone awry is palpable. In the face of such overwhelming odds, a person's life starts to feel so fragile and insignificant. People are eaten in this series like it's nothing. Mothers, fathers and children alike are all just swallowed up by the tide of violence.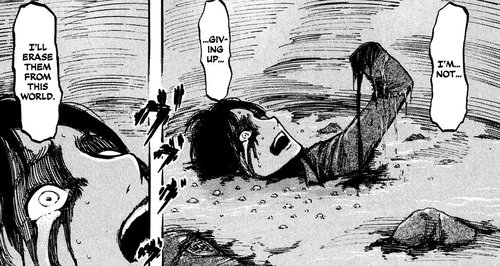 That feeling of helplessness is vital, as when seeing these characters struggle against fate, one clings to any glint of hope, cheering on the elite few able to attack and actually take-down the giants; there's a number of really cool moments in these first 3 volumes where one of the characters (usually Mikasa, a Battle Angel-esque teenage girl with ridiculously talented moves) goes up against an impossible opponent, yet somehow comes out alive. Similarly, there's harrowing scenes where (the sometimes young) characters, rather than become giant food, turn guns on themselves.
Apparently the mangaka (first-timer Hajime Isayama) actually tried to get this serialised in Shounen Jump, but was turned away for being "too manga, not enough Jump." Alas, it's selling really well in Japan right now, but I can also see why Shounen Jump declined. It's just way too harsh and violent for them, 600,000 fans or not!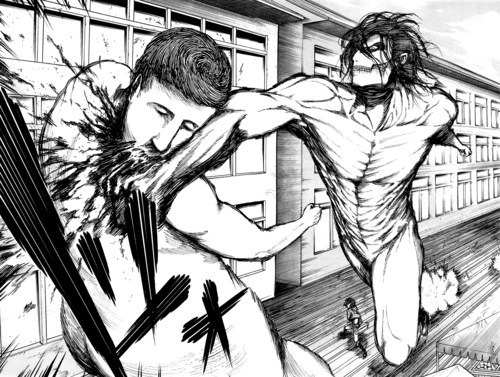 Other comparisons of note would be to the likes of Devilman, Claymore and Parasyte, because there's just something to be said for seeing a bunch of weird monsters kick the shit out of each other! Basically, I started reading this because 'giants attacking mankind's last city' sounded really cool, and that it also won an award (despite that premise) made it intriguing enough for me to seek out.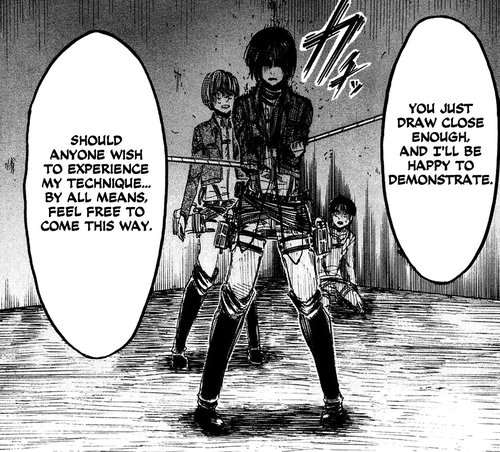 Where this is all leading is hard to say. It doesn't feel like a series that can go on forever, but I would think it still has some ways to go yet. Mystery lingers over the origins of the giants and why they are locked on wiping us out when they don't need to; they don't speak and show no sign of intelligence, yet they eat hungrily. The Giant giant is a different matter, though; he just appears at the gate and then vanishes into thin air, having intentionally busted open the walls. All of these questions have got me really hooked on Shingeki no Kyojin. Well, that, and the strong sense of fear that hangs over the city at all times, and the really cool, brave characters held within.